downsizing + estate clearing
taking it one step at a time
Ready to simplify and downsize into a condo, retirement residence, or smaller home? Or maybe you've been tasked with clearing your parents home. When faced with that to do with all the beloved (and not so precious) belongings you've accumulated over 10, 20, 30 or 40+ years in your home, you're overwhelmed.
We understand that making those decisions can be really tough. We will be your ally, guiding and working alongside you, keeping you focused, objective and moving toward your goal.
Your new abode will be set up efficiently and beautifully, so you can 'move on' to the next thrilling phase with minimal stress and upset.
pre-move downsizing or clearing an estate
estate sale services introduced in 2023
current, upcoming, and past auctions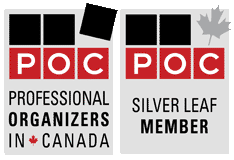 Proud Silver Leaf member of Professional Organizers in Canada (POC)
Moving On has been a proud Member of the Professional Organizers in Canada (POC) association since 2009. Silver Leaf status recognizes Professional Organizers who have been in business for at least five years.
What will it cost?
Since we build custom solutions based on your needs, every project is different. Let's talk!
We charge hourly for all services: Our Project Manager / Lead Organizer rate is $105/hr, assistants are $65/hr. HST is additional.