organizing + design services
clutter carries emotion weight - let Moving On help you shed some excess pounds
When your home is organized and in good order, you and your family will benefit by living with greater ease, allowing you the freedom to enjoy the rest life has to offer. Family dynamics are all different, and so are your needs. Together, let's create a custom solution that works for your family (and looks great too)!
residential organizing + household systems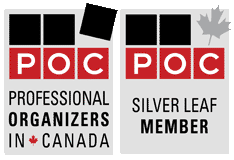 Proud Silver Leaf members of Professional Organizers in Canada (POC)
Moving On has been a member of the Professional Organizers in Canada (POC) association since 2009. Silver Leaf status recognizes Professional Organizers who have been in business for at least five years.
What will it cost?
Since we build custom solutions based on your needs, every project is different. Let's talk!
We charge hourly for all services: Our Project Manager / Lead Organizer rate is $105/hr, assistants are $65/hr. HST is additional.